- Artist's Statement -
It is the task of the artist to try and see the world as it actually is, not merely as it seems to us, based upon the dubious second-hand testimony of our unreliable senses. The artist must grapple with the mysterious poetry of which the world is made, always hoping to find a rare and fleeting glimpse of Truth beyond the veil of illusion that is our thoughts and perceptions of the world. This unknown, mytho-poetic foundation of the world consists of two fundamental aspects: One is tangible, aggressively pushing out into the ever-changing dynamic processes of the brutal cosmos; the Other is intangible, gently beckoning inward to an eternal tranquility that, in its infinite perfection, never changes. There is only That which moves and That which does not.
In my work (generally speaking), if it is hard and sharp and craggy, if it is gnarled and bent and growing, if it is blowing, surging, falling, if it is bright and shining and burning, if it is objects we can touch and processes we can observe, then it represents the masculine dynamic immanent in the cosmos. Ever aspiring, ever dying, ever reborn again to evolve in new form and ambition. Action and Power.
But there is another presence here, an ethereal, unseen reason to exist that compels the manifest world to action, an essential catalyst and guiding motivation around which the universe revolves on its inscrutable journey, a silent invitation into discovery that dwells in the sacred heart of existence. Mathematics, geometry, archetypal forms, the Laws of Nature. In my work, the Mystery of the Cosmos and the Mystery of the Woman are the same: Source, Destination, and Purpose of all things. Stillness and Beauty.
These paintings are dreamscapes of the First Ancestors, the Omnimorphic Parents from whom all forms of the cosmos have inherited their form; they are images of a sometimes beautiful and sometimes monstrous romance...of Hope and Despair, of Desire and Fear, of Beginnings and Endings...
- About the Companion Essays -
All of the paintings in the Mythic Naturalism collection have an essay or rhyming verse that elaborates on the mytho-poetic forms of the image. You can find these writings with the Legend links provided at the bottom of the image-pages.
Many people think it is heresy to write about painting and they are probably right: obviously a visual image must stand or fall on its own merits as an image, without reference to or support from other external information. Viewing instructions are certainly not required, but I find that these essays help me understand what I am trying to achieve. And so I am sharing these essays with those of you who would like to know more about the creative philosophy that inspires and informs these images. Among my speculations and ruminations are many references to specific historical, anthropological, and scientific facts; I have taken great care to ensure that these references are accurate.
- About My Book -
And, if you are really interested, you can read
a compilation of all the essays (and much more) in:

The LotusMaiden
- An Artist's Search for the Secret of the Sky Goddess -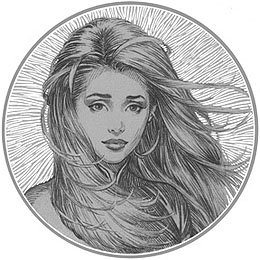 - About the Companion Music -
I also enjoy composing, and so I have added a new musical feature to JonathonArt.com, which I call The Sound and Vision of Mythic Naturalism, where you will find some montage-vignettes with orchestral interpretations of the themes in my visual work. I hope to slowly add to the list over time, and I invite all visitors to have a listen...